The Best Collapsible Water Bottles for Runners
February 27, 2019
Runners World- Best Collapsible bottles for Runners
Stay hydrated with a soft flask that's easy to carry and packs down into your pocket.
There are dozens of good reasons to stop using disposable plastic water bottles, including environmental impacts, like waste and cost, and health dangers, like the leaching of chemicals into your drink. But until recently, nothing has been as convenient or available—especially for distance and trail runners—for toting our own water. Enter collapsible water bottles, a compact and reusable way to stay hydrated while running or traveling. They take up minimal space when not in use, and are made with lightweight materials. Flexible designs shape to your hand and body, so they're never unwieldy while you're carrying them. Stow a couple in a hydration vest, carry one in your hand, or just hook a line of them to your utility belt until it looks like you're a well-hydrated Batman—you'll never have to buy a single-use plastic bottle again.
There are two basic kinds of collapsible water bottles ideal for runners: the smaller, flask type with an included handheld carrier (like the Osprey Duro), and the larger kind that can be rolled up and stowed in a hydration vest or clipped onto a belt or backpack (like the Platypus DuoLock SoftBottle). The former is ideal for when you actually want to drink while running; the latter is better for traveling or hiking—unless you're running with a backpack, vest, or jacket in which you can stow it. Note that the biggest complaint with all collapsible bottles is that they can wear down over time and leak, whether from the soft flask material itself or the valve. Be sure to contact the manufacturer if you start out with a leaky model—there should be no difference in function between a collapsible bottle valve and that of a regular water bottle.
Vapur Element 0.7L Foldable Flexible Water Bottle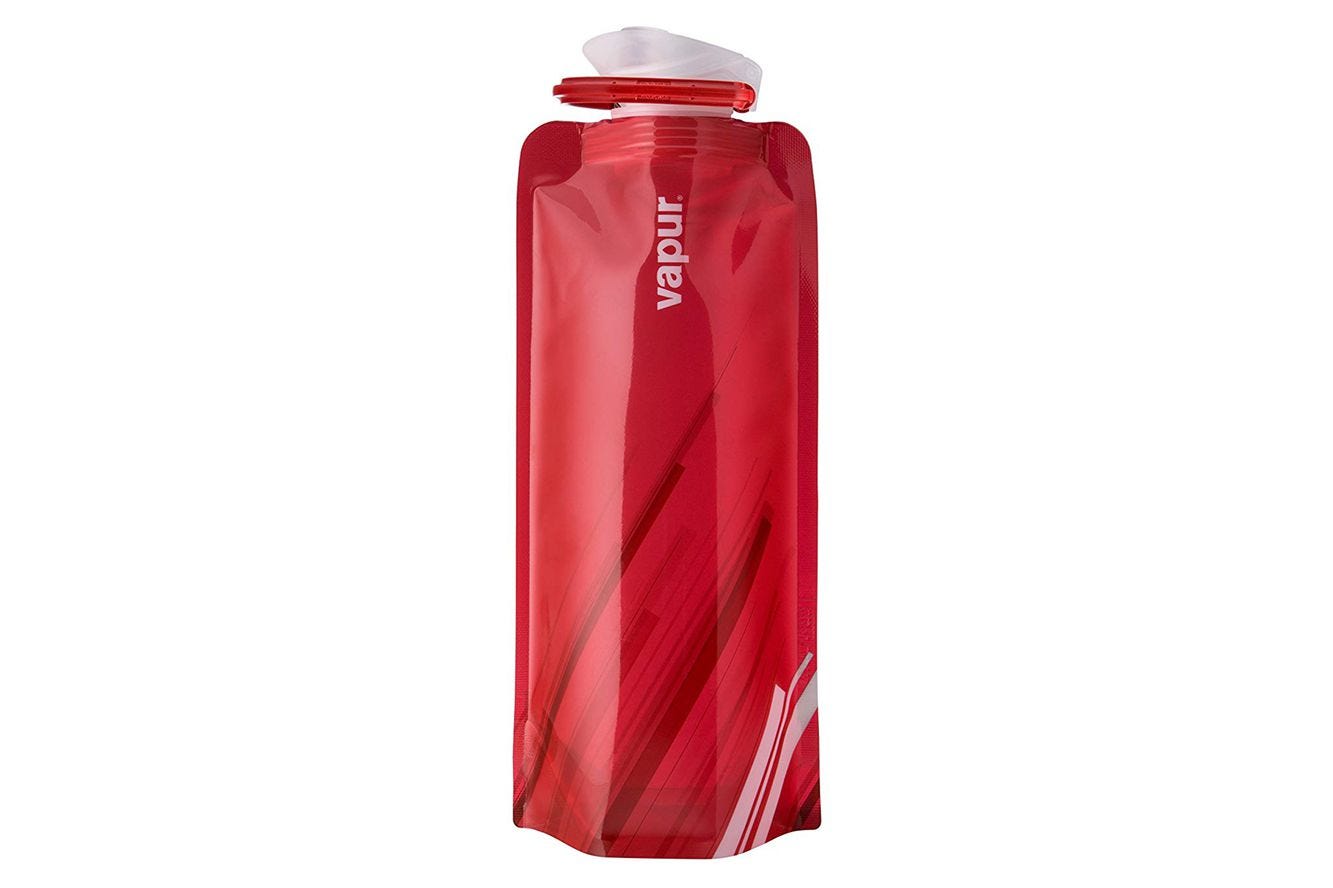 Vapur
Element 0.7L Foldable Flexible Water Bottle
An integrated carabiner makes this bottle easy to carry or roll down and stow in the pocket of your shorts. It's designed to withstand freezing, so you can pack a frosty one in your hydration vest for summer trail running.
To read the article & see the rest of the list, check it out here:
https://www.runnersworld.com/gear/a26414940/collapsible-water-bottles/